A UNIQUE IMAGE, INSTANTLY

RECOGNISABLE THE WORLD OVER.
The Ferrari brand has long been synonymous with power, thanks to the superior performance and cutting edge technologies offered by its cars. However, this power has never compromised in any way the class, styling and elegance of the GTs. The result is a unique image, instantly recognisable the world over.
To further enhance this image and as a testament to the reliability of the Ferrari product, we are now introducing the Ferrari Pre-Owned Warranty. POWER (Pre Owned Warranty for Exclusive Retail) was created to meet the needs of clients who want a warranty for their car that extends beyond the standard period covered by the manufacturer's warranty.
 

ADVANTAGES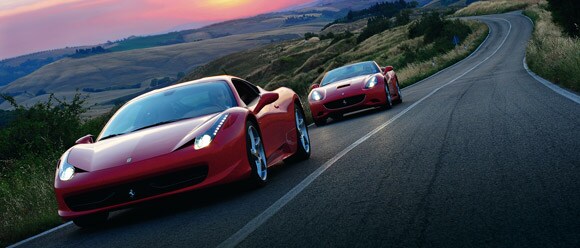 Warranty: The new package means that your car can be covered for up to 10 years; Spare parts and repairs are covered and all work will be carried out by Authorized Ferrari Dealers only. 
Pre-owned value: Another plus if you choose to sell on your car; The vehicle remains under warranty even if it changes ownership. 
Assurance: You can travel across all of the  United States and Canada and know that assistance is available at all Authorized Ferrari Dealers. 
REQUIREMENTS

The car must undergo an inspection by an Authorized
Ferrari
Dealer to certify its conformity (tallying of car's service history, service coupons, ordinary and extraordinary maintenance work carried out by an  
Authorized
Ferrari
Dealer; conformity of car to type approval requirements as specified by manufacturer).
The coverage applies only to cars with a maximum entry mileage of 90,000 km (approx. 56,000 miles), has not been modified and was imported by Ferrari North America, Inc.
To apply this service contract, you simply need to take your vehicle for inspection at any Authorized
Ferrari
Dealer.
MORE DETAILS
• Purchase between expiry of manufacturer's warranty and sixth year (Option 1) 
• Purchase between the seventh and ninth year of the car's life (Option 2).
The Power Train Warranty can be repeated several times to cover the entire period of possible coverage. However, its purchase excludes the purchase of any other successive warranty product. However, by purchasing the various Ferrari Pre-owned Warranties in succession you will be able to cover your car for a period of up to 10 years.
The Ferrari Pre-owned Warranty program applies only to Ferrari cars with Warranty commencement dates of nine years or under, excluding special and limited edition series (the F50 and Enzo Ferrari).
Please also remember that all new Ferrari sold worldwide are with a three-year manufacturer's warranty.
___________________________________________________________________________________________________________