FERRARI CLUB OF 
AMERICA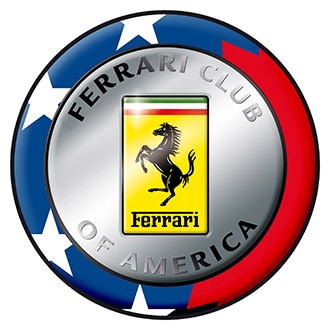 The Ferrari Club of America (FCA) was formed by a group of enthusiasts in 1962. The Club was then formally incorporated in 1963. Since that time, the FCA has grown to nearly 5,500 members in 16 Regions covering all of the United States and Canada; the largest club of Ferrari Owners in the world. Our members participate in over 500 separate events each year including exciting track events, an internationally recognized Concours d'Elegance and a wide variety of year-round social activities. The crown jewel of these events is our Annual Meet, which brings together hundreds of Ferraris, hundreds more people, a Mercado, internationally recognized Concours d'Elegance, full day Rally, multi-day Track Event and Driver's School and Award Banquet. The Meet draws participants from around the world.
FCA members receive the monthly News Bulletin with its calendar of events, free classified ads for members, F1 coverage, and more. Our award winning quarterly full-color magazine, Prancing Horse, contains in-depth features on particular Ferrari types, interviews with "Ferrari people", visits to Ferrari-related production facilities and museums, information on Ferrari literature and models. The Prancing Horse covers Ferrari gatherings both here and abroad, all thoroughly illustrated with colorful photos and drawings.
Please be sure to check our spectacular website: www.ferrariclubofamerica.org for more details about us, our members, and our fabulous events.  Come join in the fun!